Specializing in medical waste removal and disposal, WellBeing is dedicated to exceeding our customer's' needs and expectations. With a focus on customer service, our mission is to be the reliable, cost-effective and expert choice in medical waste services.
We operate our own processing facility located in Overland Park Kansas and not only meet, but exceed, all federal, state, and local standards.
The treatment of medical waste, in our case a steam sterilization and maceration technology, constitutes a method for rendering materials non-infectious prior to disposal. Our processing capabilities guarantee complete sterilization of treated wastes, reduce environmental impacts of this material, while limiting potential HIPAA liabilities through maceration. Furthermore, our energy efficient treatment process generates no odors or pollutants of any kind which helps us to be a good neighbor in our community. Our tracking procedures ensure that our clients medical waste is handled safely, efficiently, and per all applicable regulations, so you can spend less time worrying about your waste and more time delivering quality patient care.
Regulated medical waste must be contained within rigid containers which meet certain performance standards and regulatory approvals. These containers are designed and must be prepared for shipment in a manner which limits the potential for exposure if involved in an accident.
Protecting our clients from sharps and bio-hazard waste is our commitment.
Medical waste is generated at healthcare facilities, such as hospitals, physicians' offices, dental practices, blood banks, and veterinary clinics, as well as medical research facilities and laboratories. Medical waste generally refers to all solid wastes produced at a healthcare facility, whereas regulated medical wastes includes materials that require special management. Regulated medical waste is healthcare waste that may be contaminated by blood, body fluids, or other potentially infectious materials. Medical waste is frequently referred to as biohazardous waste, biomedical waste, clinical waste, other potentially infectious material (OPIM), potentially infectious medical waste (PIMW), or through its United Nations classification number, UN 3291.
If your organization is in need of a reliable, convenient, eco-friendly and cost-effective way to dispose of medical or biohazardous waste, contact the experts at Wellbeing Midwest!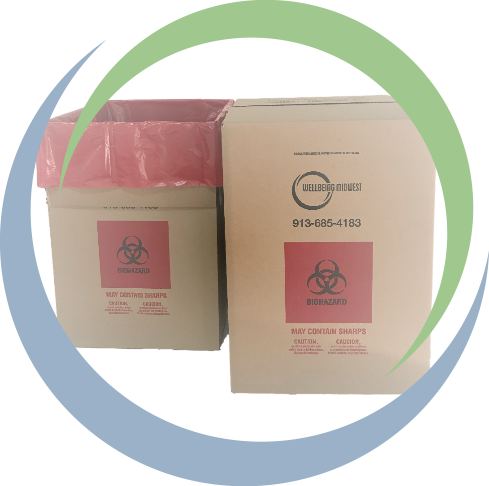 Specialized service to fit your facilities needs with flexible pick up schedules
Personalized customer service
Speak with real people locally and get fast solutions
No contracts, we offer a basic service agreement
No monthly service fees
Lower prices and no hidden fees
No service too big or too small, you determine your pick up schedule whether it needs to be once a day, once a year or anytime in between
Awarded Kansas State contract for Sharps and Bio-Waste disposal
The client is provided a manifest for certified proof of legal destruction for your records
Master collection container (OSHA & DOT approved)
Master Collection container red bag liners
Flexible Pick Up Schedules
Medical Waste Disposal Technology
We are proud to use Steam Sterilization and Maceration (SSM) technology as the basis of our unique biohazardous waste processing system. This system is designed for safe, efficient and cost-effective processing of:
Biological agents and infectious materials
Needles, syringes and disposable surgical instruments
Contaminated plastics
Sharps containers/needle boxes
Confidential media and proprietary materials
Blood products and body fluids
Pathogens: bacterial, viral, fungi or proteinaceous infectious agents
Contaminated animal carcasses (less than 40 pounds) and animal bedding
Some pharmaceuticals
Video is copyrighted and is used with permission of the copyright owner.
The benefits of SSM processed waste?  It is sterilized, safe and no longer recognizable as medical waste. Therefore, it can be recycled or disposed of as ordinary municipal trash. Unlike medical waste incinerators and autoclaves, SSM processing is free of unpleasant odors and does not release any negative air emissions. It is more environmentally friendly and less costly than any other on-site medical waste management alternative.
How It Works
Within 30 minutes, they system softens the waste while the particles are simultaneously surrounded by superheated water and steam until sterilization is achieved. Most bio-hazardous waste processors only disinfect waste; We guarantee sterilization with our process.
Reducing Your Expenses Through Education
Many times, customers pay for disposal of the wrong materials.   From pizza boxes to bedding, we see a lot of waste that has been placed in our boxes or bins.  This costs you money!  We work to prevent this unnecessary cost to you by providing in-person trainings to employees on:
The Dos and Don'ts of Biohazard Waste Removal
Proper handling of waste disposal receptacles
Scheduling pick ups
Pharmaceutical waste items that can be placed in a non-controlled/non-hazardous pharmaceutical waste container.